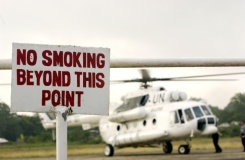 There are choppers from the city to the Hamptons, choppers to Atlantic City. Madonna has one parked atop her CPW penthouse. There are also, as I learned Monday, choppers to Moscow via West Africa. Or at least so went the joke.
Our 550-foot 12,000 ton Mercy Ship only three days into her first ever visit to war-torn Monrovia's Freeport, and here I am, up before dawn, ready to fly across the country. The United Nations has been kind enough to offer the services of three Russian pilots and a MI-8 helicopter to shuttle our medical staff to a small town on the Guinea border called Ganta. Fifteen of them are decked out in white uniforms - I think I look the part too with aviator glasses and a khaki shirt right off James Woods in Salvador.
I'll digress for some first yet cautious impressions of Liberia. After four months in Benin, although my French was finally becoming intelligible, the switch back to English is a welcome one. However, Benin's infrastructure will be missed. The 8:30 a.m. train north might wait until 4 p.m. to cough to life, but at least there was a train.
Those of you not living under rocks have probably heard something about Liberia's devastating 14-year-old civil war that made consistent front page news and claimed the lives of 200,000 - displacing almost a million. That's a third of the country's population, but thankfully, a recent yet tenuous ceasefire and peace brought in the UN blue hats with the largest peacekeeping force anywhere in the world. They are 16,000 strong and like locusts. They drive white SUV's with shiny chrome spare tire covers that would make Jay-Z proud. Armed tank convoys are a common sight, and if I had a dollar for every UNMIL checkpoint I've passed already, well....
Liberia was founded in the 1800's by freed American slaves. One double-takes after a look at their flag. It mirrors our American flag, yet features one lone white star instead of 50. The constitution was drafted at Harvard University and Liberia means "Land of freedom". Their currency, the Liberian dollar, used to run one to one with ours. Now it's fifty five to one.
It's a desperate place. The life expectancy here is 41 - just a little more than half a life. More than 90 percent of Liberians live on less than a US $1 a day. The Economist magazine gave Liberia its esteemed "worst place to live in the world" award in 2003. There's no public running water, sewage, or electricity. If you see a light, there's a generator chugging away nearby. Bulletholes decorate streetlights, bridges, buildings. What used to be a luxury highrise hotel, the Ducor Intercontinental - at the highest point of town - is now a shell. It houses more than 1500 squatters living with a view but also with the constant stench of urine and feces.
The Lonely Planet saved some money last year and just wrote the following:
"WARNING. The mess that is Liberia's civil war seems to be on the mend but the country is still no place to go for a beach holiday. There is sporadic looting as well as bursts of shooting in pockets of the country, including Monrovia, where a curfew is in place from 7am to 4pm. The future for the troubled West African country is uncertain, and its security situation remains volatile."
But as Mother Teresa said, if you can't feed a hundred people, feed just one. So what is certainly a daunting task, has brought our NGO and our hospital ship to Monrovia at the request of the transitional government and the UN. In our case it's free medical treatment we're offering, not food. Highly specialized life-transforming maxillo-facial operations - cleft lip and palate operations. VVF operations to relieve incontinent women who can't afford the $150 surgery that can mend them.
In the muggy morning air over Liberia, through the open window of this white russian chopper, I see a giant forest - a jungle of endless green and then suddenly rows and rows of mud huts - IDP camps (internally displaced persons). More than 10,000 hungry Liberians make their homes there - waiting for rations from the World Food Programme. Waiting to be relocated. Soon the huts and lives quickly vanish into more endless green and less than an hour and a half later, we land at the UN airstrip in Ganta. The pilots joked that we were headed to Moscow and cooler weather. We joked that this didn't look like Moscow but it's too hot for any of it to be funny.
A short distance from the airstrip is our destination, the Ganta United Methodist Hospital. I'm thrilled to follow in the footsteps of Graham Green, who stumbled through the same hospital grounds in 1940, and recounted meeting the founder, Dr. Harley in his book Journey without Maps.
"Dr. Harley, the Methodist medical missionary, is unique in Africa: a man with a body and nerves worn threadbare by ten years' unselfish work, cutting away the pus from the huge swollen genitals, injecting for yaws, anointing for craw-craw, injecting two hundred natives a week for veneral disease. He had made his home in the corner of Liberia with his wife and two children, curious little elderly yellow-faced boys; he had lost one child, who was buried at the mission."
Mr Harley's life work lives on here, and the hospital feels a place of great survival, hope and competence. It serves a nearby 450,000 - a staggering number, and the administrator, Mr. Tyre, tells me he's glad we've come to help. "We just don't have the sophistication" he says. The hospital made it through 13 years of the war, before a surprise visit from the LURD army in 2003. Sadly, it was looted and all but destroyed sending patients and staff scurrying into the bush. $300K from the faithful Methodists got it back in action last March.
The local staff accommodate our small team, and are courteous and professional. I find out later, that the hospital often doesn't receive money for treatment, They recently performed several surgeries on a 34-year-old for typhoid perforation of the bowels, and instead of full payment of his bill of $478, they settled for $26, some chickens and a goat.
We spend the next eight hours screening the patients that have arrived. They come bearing the load of the many usual West African maladies shocking to Westerners. Noma or flesh-eating disease, massive cleft lips and palates, large facial tumors. As the hospital has no white sheet to give me to shoot patient photos, I improvise and tape 15 eight and a half by elevens together and to the wall as a backdrop. My makeshift photo studio in the bush.
Little Brutus, a small boy brought by his father, is the first patient I photograph. He leaves my photo station, and lingers. I'm beaming, as I know we'll do wonders on his gaping cleft lip and he smiles back unwilling to leave this place of hope. This place of healing. An hour later he returns and presents me with some bananas and a pineapple. I melt.
The day finishes and will survive I'm sure as one of the better ones I've had since joining the ship. The helplessness and pain so indelibly etched in the patient's faces reminds me again why we're here. Why we've chosen to use our affluence, medical knowledge and resources to reach into this wilderness and rescue those we can.
If you can't operate on a hundred people, operate on one. We schedule 57 for free surgery before heading back to Monrovia.

click here to view pictures from Ganta Hospital and of the patients.